Are We in a Housing Bubble?

Investment Themes, The Economy
September 16, 2021
Are We in a Housing Bubble?
Ask anyone looking to buy a home right now and you will hear stories of bidding wars, multiple offers, and homes ultimately selling for well above asking prices. Home prices in the U.S. jumped significantly in 2020 and have continued to accelerate into the first half of this year. A surge in demand and limited housing inventory are pushing prices higher and causing many first-time home buyers to be priced out of the market.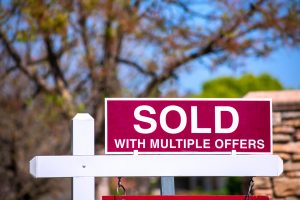 According to a recent analysis done by the government mortgage company Freddie Mac, the U.S. housing market is 3.8 million single family homes short of what is needed to meet the country's needs. Freddie Mac measured the number of single family and second home purchases with the current pace of construction.
Construction of new homes slowed after the 2008-2009 financial crisis. Many developers were understandably reluctant to commit capital to new projects and many others had simply gone out of business. Homebuilding eventually picked up in subsequent years, but construction slowed again in 2020 when coronavirus lockdowns halted construction in some parts of the country and builders cut spending on land acquisitions and new projects. The effect of the Covid-19 pandemic surprisingly increased housing demand as people in higher-income households who were able to work from home wanted more space and were willing to live farther from their offices. At the same time, the pandemic caused supply-chain bottlenecks and permitting delays that slowed breaking ground on many new home developments.
Shortages of materials and labor have also contributed to delays and higher construction costs. Lumber prices increased a record 154.3% year-over-year in May, according to the latest producer price data. Lumber futures contracts have dropped from historic highs set in early May as sawmills ramped up production and imports increased. Still, prices remain above pre-pandemic levels.
Over the years, the mix of newly built homes has changed, with large, expensive homes constituting a greater share of homebuilding activity, thus leading to a significant shortage of entry-level homes. Only 65,000 homes smaller than 1,400 square feet were built in 2020. This compares to more than 400,000 such homes built annually in the late 1970s, according to Freddie Mac. As the millennial generation enters peak home-buying age, many people are having to postpone their dreams of home ownership as they become priced out of the market, even for entry-level homes.
For some, today's real estate market might feel eerily similar to the market conditions in 2005 and 2006 prior to the housing crash. The housing bubble that prompted the Great Recession stemmed from the rise of subprime lending. Banks and mortgage lenders were originating risky loans, often requiring little documentation to prove borrowers were qualified. Today, most lenders are much more cautious and mortgage qualification standards are still quite high. Most banks require a minimum down payment of 20%-25%.
There are risks emerging that could slow the housing market down, including higher interest rates and prices growing faster than incomes. We expect the housing industry to remain strong in the near future, but we anticipate some cooling in prices from unsustainable growth rates.
Individual investment positions detailed in this post should not be construed as a recommendation to purchase or sell the security. Past performance is not necessarily a guide to future performance. There are risks involved in investing, including possible loss of principal. This information is provided for informational purposes only and does not constitute a recommendation for any investment strategy, security or product described herein. Employees and/or owners of Nelson Capital Management, LLC may have a position securities mentioned in this post. Please contact us for a complete list of portfolio holdings. For additional information please contact us at 650-322-4000.
Receive our next post in your inbox.