Nelson Capital incorporates decades of experience and a philosophy of partnership to offer an efficient blend of wealth and asset management services for clients with net investable assets of one million to fifty million dollars.
Brooks Nelson
CFA - Principal
Brooks Nelson has over 30 years' experience in portfolio management and securities research. Brooks graduated with a BS from Princeton University and worked at IBM, Damon Raike, and Kidder Peabody before, in 1985, joining Nelson Capital Management, the firm founded by his father. He became president of Nelson Capital in 1990. Brooks is a Chartered Financial Analyst and a member of the CFA Institute. He is an avid swimmer and cyclist.
Steve Philpott
CFP®, MBA — Principal
Steve Philpott has 25 years of expertise in wealth analysis, asset management, and securities trading. Steve graduated with a BA from Santa Clara University and later earned an MBA from the University of San Francisco. He began his investment management career at Nelson Capital Management, where he served as a research analyst and portfolio manager. Steve is a CERTIFIED FINANCIAL PLANNER™ professional, a member of the Financial Planning Forum, Inc., and served as president of the Santa Clara University Alumni Association Board of Directors. A Bay Area native, Steve enjoys hiking, golfing, and spending time with his wife and children.
Ann B. Oglesby
MD, MBA — Senior Research Associate
Ann Oglesby has 25 years of experience in the health care delivery and 10 years' expertise in risk management, mergers and acquisitions, business analysis, and quality improvement within the industry. Ann graduated with a BS from Stanford University, an MD from St. Louis University, and an MBA from Indiana University. She completed her clinical training in internal medicine at the University of Iowa and worked in primary care before moving to health care management. Ann served for 15 years as a vice president and director of quality improvement at a large integrated health care system before joining Nelson Capital in 2006. In her free time, Ann enjoys singing, studying classical music, and spending time with her family.
Darcy Nelson Smoot
CFA — Principal
Darcy Smoot has extensive experience in equity analysis and securities trading. Darcy graduated with a BA from Swarthmore College, majoring in Mathematics and English Literature. She began her career at Bloomberg LP in New York City, and in 2009 went on to work as an equity derivatives sales trader at Susquehanna International Group before joining Nelson Capital in 2014. Darcy is a Chartered Financial Analyst, and is a member of the CFA Society of San Francisco. Darcy loves cooking, hiking, and spending time with her two young daughters and her husband, Cliff.
Brooks Nelson, CFA - Principal
"One of my favorite stories is about a client who called me one day to debate a financial decision. He had long dreamed of buying the house next door to the home of the president of his alma mater, and the house he had been eyeing was on the market. He called to ask if I thought he should buy it, certain I would talk him out of it. Instead, I talked him into it, and today he is thrilled to be living his dream."
Steve P. Philpott, CFP®, MBA — Principal
"I've learned that life's transitions make our services the most valuable. One couple I was working with was concerned that their lifestyle would have to change for them to retire. After extensive discussions and planning, we developed a portfolio strategy that made them comfortable with not only their ability to continue traveling but also their ability to help support the college education of their grandchildren."
Darcy Nelson Smoot, CFA
By employing primary research on individual securities, we keep our costs down and create a tailored approach to asset management. I enjoy getting into the weeds with the research team, identifying investable themes and coming up with creative solutions. Each of us brings a unique perspective and diverse experience set to the table.
Evan Nelson, CFP® — Assistant Relationship Manager
"I believe Nelson Capitals commitment to philanthropy and education has made a huge difference in the lives of our clients and the community as a whole. Whether it is sponsoring the local elementary school fun run, throwing events surrounding the preparation for college admission, or volunteering at a food bank, our firm has had a positive impact that extends beyond the advice we give to our clients."
Evan Nelson
CFP® — Principal
Evan is a CERTIFIED FINANCIAL PLANNER™ professional with extensive experience in portfolio and investment management. He is passionate about helping clients realize their financial goals, while taking the time and care to fully understand their unique situation. Before joining Nelson Capital, Evan graduated from The University of Southern California, worked on various marketing campaigns, and as an outside sales manager. In his spare time, he enjoys playing basketball and cooking with his wife and daughter.
Chrissy Domingo
Research Associate
Chrissy Domingo joined Nelson Capital in 2017 after graduating from Santa Clara University with a Bachelor of Science in Commerce, majoring in Finance. Born and raised in the Bay Area, Chrissy enjoys snowboarding, hiking and volunteering with local animal rescue organizations.
Marissa Wisniewski
Assistant Portfolio Manager
Marissa joined our team in 2019 after several years of travelling around the country with an international corporation building skills in operational management at regional and national levels. She enjoys hiking, video games, concerts and volunteering for the National Multiple Sclerosis Society.
Tiffany Garcia
Assistant Portfolio Manager
Tiffany joined the firm June of 2020 and was formerly a branch manager at Wells Fargo Bank for 9 years. Tiffany is a California native who enjoys scuba diving, hiking, traveling, sports games, and concerts. She is also a board member for the San Jose chapter of Active-2030, a nonprofit group that aims to improve the lives of children in their communities.
Donald Horton
Research Associate
Donald joined Nelson Capital in 2021. He has several years of technical experience, and 4 years of experience as a Financial Analyst. He graduated with a BS in Computer Science from U.C. Berkeley, and an MS in Finance from Santa Clara University. Donald enjoys playing chess, badminton, and table-tennis (don't call it ping-pong).
Kelly Bojo
Office Manager
Kelly joined Nelson Capital in 2021 after 16 years in the insurance industry. She splits her time between the Bay Area and Tahoe, enjoys being out on the lake and trips to Disneyland with her family.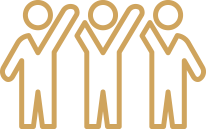 Our Community
Nelson Capital is a proud supporter of organizations within the communities we serve.