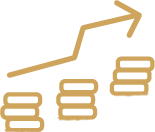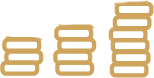 Asset Management
We apply rigorous analysis in asset selection so you can focus on your passion

We know that you value asset preservation as much as—
if not more than

—asset growth.

Our in-house research team of investment professionals implements an active management strategy, conducting primary research on individual securities. This process gives us more insight into the markets and flexibility in portfolio construction, allowing us to capture most appreciation in up markets, while offering protection in down markets.

Contact Us
We build your customized portfolio considering factors such as low-basis stock, overexposure to a company or industry due to stock option grants, or other mandates within which you would like your assets to be managed.
The only sure way to increase a portfolio's performance is by lowering fees.
By bringing the research process in-house, we are able to eliminate the fees you would otherwise pay to a mutual fund or separate account manager. With individual securities, your portfolio is more tax efficient because we can fully take advantage of tax loss harvesting and charitable gifting of appreciated assets.
Portfolio Management
Asset Allocation
Equity Analysis
Fixed Income Analysis