Asset Management, Companies and Industries, Investment Themes, The Economy
August 11, 2022
General Mills
General Mills (tkr: GIS) is a manufacturer and marketer of branded consumer foods and pet food products sold mainly through retail stores. General Mills also supplies branded and unbranded consumer food products to the North American foodservice and commercial baking industries. The company focuses on the following categories: ready-to-eat cereal; convenient meals (including meal kits), ethnic meals, pizza, soup, side dish mixes, frozen breakfast and frozen entrees; snacks (including grain, nutrition bars and frozen hot snacks), yogurt, and super-premium ice cream. Other product categories include baking mixes and ingredients and refrigerated and frozen dough. 75% of total sales come from North America and its fiscal year 2022 revenue was $19 billion. General Mills acquired Blue Buffalo pet food products in 2018, which has proven to be a strong growth driver for the company.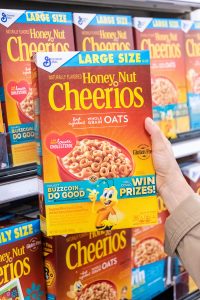 General Mills' products are the top sellers in most categories. Some of General Mills' most recognizable brands include Annie's Organics, Betty Crocker, Bisquick, Blue Buffalo, Cheerios, Chex, Fruit Roll-Ups, Gold Medal, Golden Grahams, Häagen-Daz, Lucky Charms, Nature Valley, Pillsbury, Progresso, Raisin Nut Bran, Total, Totino's, Trix, Wheaties, and Yoplait.
Over the last few years, consumers have been shifting away from processed foods to fresher, natural options. As a result, growth in some of General Mills' categories has slowed. The firm has responded by reformulating its products to eliminate artificial ingredients, offering gluten-free and non-GMO options, and simplifying ingredient lists. These actions, along with its strong brands, have allowed it to maintain or gain share within its categories.
General Mills customers include grocery stores, mass merchandisers, membership club stores such as Costco, natural food chains, commercial and non-commercial foodservice distributors, restaurants, convenience stores, drug chains and discount chains and pet stores. Wal-Mart accounts for about 20% of the company's net sales and is General Mills' largest customer.
General Mills has a significant cost advantage over many peers. Its large production volume resulting from its market-leading positions allows the firm to leverage fixed costs over a large revenue base, providing greater supply chain efficiency. Gross margins generally run in the mid-30s, above many competitors.
The company is headquartered in Minneapolis, Minnesota and has approximately 35,000 full- and part-time employees. It operates 47 facilities for the production of its food products, half of which are in the United States and the balance scattered around the world.
Management has done an excellent job diversifying product lines, has successfully identified trends and responded with innovative new products and has maintained a healthy balance sheet. General Mills has a long history of maintaining a high dividend payout to shareholders, making it a solid choice for our Consumer Staples sector holdings.
Individual investment positions detailed in this post should not be construed as a recommendation to purchase or sell the security. Past performance is not necessarily a guide to future performance. There are risks involved in investing, including possible loss of principal. This information is provided for informational purposes only and does not constitute a recommendation for any investment strategy, security or product described herein. Employees and/or owners of Nelson Capital Management, LLC may have a position securities mentioned in this post. Please contact us for a complete list of portfolio holdings. For additional information please contact us at 650-322-4000.
Receive our next post in your inbox.