Asset Management, Companies and Industries
November 14, 2022
Merck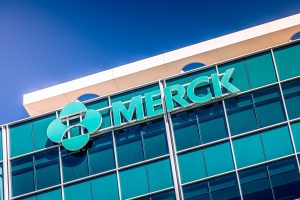 Merck, headquartered in Kenilworth, New Jersey, is one of the largest pharmaceutical companies in the world. It consistently ranks in the top ten by revenue, which is currently over $50 billion annually. Merck makes products to treat conditions in several therapeutic areas, including cardiometabolic disease, cancer, and infections.  Within cancer, Merck's immuno-oncology platform is a major and growing contributor to overall sales.  Merck also has a substantial vaccine business, including shots to prevent hepatitis B, human papillomavirus, and shingles as well as several pediatric infectious diseases.  Finally, Merck has an animal health division, which accounts for around 12% of total sales. Approximately half of the company's revenues are generated in the United States.
The primary reason to own Merck is the continued success of its oncology drug, Keytruda, which is the world's best-selling cancer drug and generated over $17 billion in sales in 2021. Merck intends to grow its oncology business and many studies are underway to expand Keytruda's treatment indications. Keytruda (pembrolizumab) is a type of medication called a checkpoint inhibitor.  The drug blocks proteins called checkpoints that are made by some types of immune system cells, such as T cells, and some cancer cells.  These checkpoints help keep immune responses from being 'too strong' and can sometimes keep T cells from destroying cancer cells.  When the checkpoints are blocked, the T cells can more successfully eradicate the cancer cells. Keytruda is approved to treat many different types of cancer, including lung, breast, skin, colorectal, endometrial, renal, gastrointestinal and bladder. The drug is now advancing into earlier stage treatment, particularly following surgical resection of certain cancers.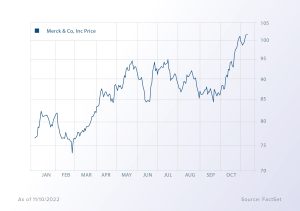 Keytruda was 35% of Merck's 2021 revenues and looks to be closing in on revenues of $20 billion in fiscal year 2022. Keytruda loses patent protection in 2028. Other significant Merck products include Gardasil, its vaccine for HPV, and Lagevrio (molnupiravir) for the treatment of Covid-19, although it was not as effective as Paxlovid, Pfizer's drug, in clinical trials.
Merck's financials are solid, and like many Big Pharma companies, it pays a generous dividend of 3.2%.
Individual investment positions detailed in this post should not be construed as a recommendation to purchase or sell the security. Past performance is not necessarily a guide to future performance. There are risks involved in investing, including possible loss of principal. This information is provided for informational purposes only and does not constitute a recommendation for any investment strategy, security or product described herein. Employees and/or owners of Nelson Capital Management, LLC may have a position securities mentioned in this post. Please contact us for a complete list of portfolio holdings. For additional information please contact us at 650-322-4000.
Receive our next post in your inbox.