What is the CFP® Certification?

What is the CFP® Certification?
What is the CERTIFIED FINANCIAL PLANNERTM Certification and Fiduciary Responsibility?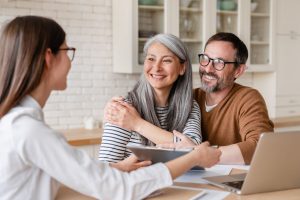 The term "financial advisor" is a generic term used to describe many different financial professionals such as stockbrokers, insurance agents, tax preparers, investment managers, and financial planners. While executing trades, selling insurance policies, and preparing tax returns may involve some level of financial planning, these activities tend to be less holistic than the advice you would get from a financial planner. To differentiate the title and expertise of financial planners, the Certified Financial Planner Board of Standards, Inc. (CFP Board) created the CERTIFIED FINANCIAL PLANNERTM Certification.
This certification requires individuals to go through extensive education, examination, experience, and ethics requirements. The capstone course includes principal knowledge topics such as:
Professional Conduct and Regulation
General Principles of Financial Planning
Risk Management and Insurance
Planning Investment Planning
Tax Planning
Retirement Savings and Income Planning
Estate Planning
Psychology of Financial Planning
Aspiring CFP® Professionals must then pass a 6-hour CFP® Certification Examination that tests their knowledge of these subjects. Furthermore, they must complete thousands of hours of professional experience related to the financial planning process. Finally, candidates must satisfy the CFP Board's Fitness Standards and commit to the Code of Ethics and Standards of Conduct. The cornerstone of the ethical duties are that a CFP® professional must act a fiduciary, or always act in the client's best interest.
As an SEC registered advisor, all of Nelson Capital's Relationship Managers are required to act as fiduciaries. As CERTIFIED FINANCIAL PLANNERTM professionals or Charted Financial Analyst charterholders, all of our advisors are held to an even higher ethical and moral standard. In fact, since Nelson Capital was founded, the fiduciary responsibility has been the ethos of our firm. The message to, not only our advisors but to all our employees, has always been to do whatever is in your power to take care of clients first and foremost because that will benefit the firm, which will take care of you. We are proud to maintain relationships with client families lasting over 40 years that span multiple generations and view it as a testament to our expertise and commitment to our client's care.
Individual investment positions detailed in this post should not be construed as a recommendation to purchase or sell the security. Past performance is not necessarily a guide to future performance. There are risks involved in investing, including possible loss of principal. This information is provided for informational purposes only and does not constitute a recommendation for any investment strategy, security or product described herein. Employees and/or owners of Nelson Capital Management, LLC may have a position securities mentioned in this post. Please contact us for a complete list of portfolio holdings. For additional information please contact us at 650-322-4000.
Receive our next post in your inbox.