Asset Management, Companies and Industries, The Economy
August 29, 2023
Emerson Electric
Emerson Electric (tkr: EMR) manufactures products and provides engineering services for a variety of industrial, commercial, and consumer end markets around the globe. It is most recognized for its significant presence in manufacturing factories, providing products and solutions to optimize efficiency and maximize production. Dubbed the "King of Automation" by Morningstar, Emerson has the industry's largest installed base in the Americas. The company is well-positioned to benefit from several secular growth drivers including digital transformation, sustainability and decarbonization, reindustrialization and nearshoring which should bolster Emerson's long-term growth across diversified end markets.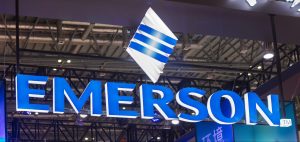 Emerson's recent shift to focus on process automation, which integrates software, hardware, and other technologies to automate business processes and functions, will continue to fuel long-term growth. Automation boosts manufacturing firms' profitability, potentially adding more to the firms' bottom line than any other investment. The total addressable automation market is estimated to be over $200 billion, giving Emerson Electric a substantial runway for future growth. Emerson has a powerful grip on the industry due to the long lifespan of its process manufacturing infrastructure, which can last for decades. Its reliability builds brand loyalty as the cost of failure of certain parts could be catastrophic for manufacturers. Many manufacturers have continuous processes, so any down time is much more impactful. This helps maintain sticky demand for Emerson's quality products and services. Lastly, compliance requirements from regulators reinforce the switching costs to increase safety within manufacturing factories.
Efficient executions of transactions over the past several years have supported Emerson's transformation into a pure play automation company. Emerson acquired AspenTech, a leading industrial software company, for $8.5 billion in October 2021. AspenTech provides enterprise asset performance maintenance, asset performance monitoring, and asset optimization solutions. Emerson sold Therm-O-Disc (temperature sensors) to One Rock Capital Partners for $626M in July 2022, sold InSinkErator (garbage disposals and hot water tanks) to Whirlpool (tkr: WHR) in August 2022 for $3 billion and sold a 55% stake of its HVAC business to Blackstone (tkr: BX) for $11.75 billion in October 2022. Earlier this year, Emerson agreed to acquire National Instruments (tkr: NATI) for $8.2 billion, further solidifying its leadership in the process automation and manufacturing market. This transaction is expected to close in the first half of fiscal year 2024. Since then, Emerson has announced several other pending acquisitions with undisclosed terms that will strengthen its dominance in the automation business.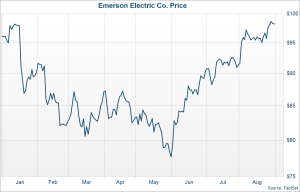 As a result of these transactions, Emerson Electric has rejiggered its business segments and now reports six segments and two business groups. Under the Intelligent Devices business group are the following business segments: Final Control; Measurement & Analytical; Discrete Automation; and Safety & Productivity. The Software and Control group comprises Control Systems & Software and AspenTech. Emerson's transition to becoming a pure play automation company has enabled it to become more efficient, more focused and more profitable.
Individual investment positions detailed in this post should not be construed as a recommendation to purchase or sell the security. Past performance is not necessarily a guide to future performance. There are risks involved in investing, including possible loss of principal. This information is provided for informational purposes only and does not constitute a recommendation for any investment strategy, security or product described herein. Employees and/or owners of Nelson Capital Management, LLC may have a position securities mentioned in this post. Please contact us for a complete list of portfolio holdings. For additional information please contact us at 650-322-4000.
Receive our next post in your inbox.